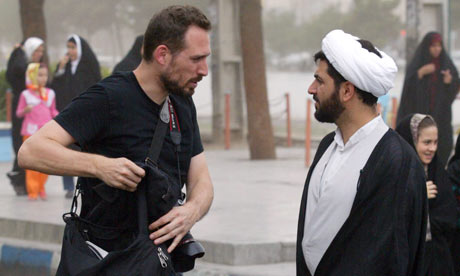 I absolutely love the my work as a photo journalist. It's one of the most exciting and rewarding things that I've ever done and I'm extremely happy that I've chosen photo journalism as a profession.
It was a long road. Learning photography isn't easy. Photography is an extremely challenging task, and being one of the better photographers around is difficult because so many people love photography and would love to make a living from it. So the competition is extremely high and it's extremely hard to get your work noticed. Not only that but as a photojournalist you need to have a very specific skill of taking photographs in high pressure situations.
Many photographers can take great photos when they have a half an hour to set up but taking a great photo when you've got a few moments, or even less, is much more challenging.
There are some really wonderful rewards from being a great photo journalist. You get to expose some of the atrocities that are found in war. Some of the things that governments like to cover up you get to uncover. I've been particularly pleased that I've been able to take some stunning photographs of some very unpleasant situations in wars I've covered.
And of course you get to do some serious travelling. Whilst it's true to say that a lot of the places I travel to are very dangerous they are also extremely interesting places, much more interesting than just taking a holiday in London or New York.
So my profession is an extremely exciting one and I find it very rewarding. However there are some downsides.
I miss my family greatly and my family misses me. Obviously I make my income from being somewhere other than where my family is, and all my travelling poses significant stresses on my family life and relationships. My kids don't see enough of me and I hugely regret that. It is a very major negative to the work I do.
Another of the downsides is that I don't really make sufficient money from this. It's very difficult in my profession to make a lot of money and there's really very little I can do to increase my earnings. I pay for most of my own equipment, and I've been struggling to buy some of the latest equipment, and have needed to take out a small installment loan, from this website, to be able to afford some of the equipment that I now need to be able to compete with some of the best photographers on the planet.
Unfortunately, whilst photography equipment is now extremely good it is also extremely expensive. I have 3 digital cameras and each one cost way over $3000. That's just my cameras of course, I have a number of telephoto lenses, filters and stacks more equipment. And of course it gets pretty hard to travel with all of that photography gear as well. I needed a small loan each time I bought a new camera.
But then of course everyone has downsides to what they do. I don't think anyone has a profession where everything is perfect and I suppose that I'm just like everybody else. I need to enjoy the upsides as much as possible whenever I can and I need to work through the downsides as best as I can. In that respect am sure I'm no different from anyone else who might work as an accountant or a lawyer. Nothing is ever perfect.
But I'm extremely pleased that I've been able to make a success of photojournalism. It's an extremely tough profession and one where there is enormous competition from other journalists, and one where you need to be outstandingly good to make an impact. I'm proud that I've been sufficiently good at what I do to be successful at it and be able to support myself and my family.
I just have to grit my teeth through the bad things.